Welcome to The Alberta Farmers' Market Association
The Alberta Farmers' Market Association (AFMA) fosters partnerships to stimulate farmers' market initiatives; works collaboratively to assess, develop and implement policies and guidelines that will strengthen the quality of farmers' markets in Alberta; provides support to our member markets, vendors, managers, boards and sponsors through advocacy, education, promotion and innovation.
2017 Farm to Market Conference
This years conference theme is "Farm to Market" and will be held on March 2nd and 3rd, 2017 at the Pomeroy Inn and Suites in Olds, Alberta.
We are partnering with the Alberta Farm Fresh Producers Association this year and have a tentative agenda available. We have a wide range of speakers to accommodate our diverse membership. Please check our website for updated agendas as we confirm speakers. Our AFMA annual general meeting will be held during the conference on March 2, 2017 at 12:00 pm.
AFMA Cookbook!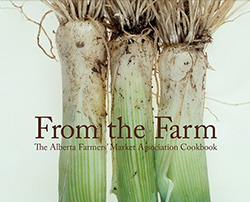 20th Anniversary
AFMA Cookbook
Tested recipes from acclaimed chefs using fresh local ingredients…
From farm to table.