When you shop your favourite farmers' market, you want to buy from farmers, food producers and artists that made or grew their own products. It's a great way to support local businesses. 
But are you 100% certain the vendors you are buying from are not selling products made by someone else, or products that were made somewhere else?
Thanks to a new program by the Alberta Farmers' Market Association, market shoppers now have complete certainty and a guarantee they are shopping local. 
AFMA's verified vendor program is an easy way to identify vendors that have made or produced the products they sell, and aren't selling products made by someone else or made somewhere else.
The verified program brings greater transparency to the farmers' market. You simply need to look for the verified logo on display in a vendor's market stall, on their products or in their social media.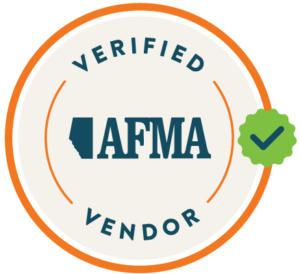 When you see the verified logo, you can be 100% certain you are buying from:
A farmer that sells what they raise or grow;

A food producer that makes or bakes their own food products;

An artisan or craftsman that makes their own creations. 
The verified logo is our assurance you are not purchasing products made elsewhere or by someone else. With the verified vendor logo, consumers can distinguish between a genuine farmer, producer or artist, and a reseller that may be pretending to be something they are not. 
Look for the verified logo when shopping for produce, meats, grains and more at Alberta's farmers' markets.

Look for the verified logo when you are shopping at the market for value-added products like pies, jams, jerky or dumplings.

Look for the verified logo when you are purchasing artisan and craft products at Alberta's farmers' markets, like jewelry, clothing or pieces of art.
The logo is AFMA's assurance you're buying from a business that makes or creates everything they sell and that they are not reselling products made elsewhere or made by someone else.
To make it even easier for you, view the complete list of verified vendors, what products they sell and what markets they are at right here.