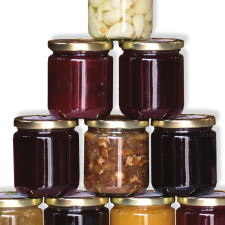 About Sandys Homemade Goodies
Handmade jams, jellies, relishes, chow chow and more with enticing flavours like jalapeno prickly pear glaze, banana split jam, green tomato chow and million-dollar relish. Sandy makes more than 30 unique flavours of preserves in her commercial kitchen in Gibbons. Every jar offers something special – sometimes a kick of heat, a touch of sweetness, sometimes a little boozy while others are herbal and spicy. The business started with a freezer full of berries that Sandy made into preserves to give as gifts to family and friends, and it has been full steam ahead ever since. Today, Sandy sells at several local farmer's markets and shops, and processes thousands of pounds of fresh fruit and vegetables each year. "To bring our preserves to life, one family member peels, one cuts to the correct length while another cuts into sticks. Someone else jars it and another family member covers it in brine. It is truly a family affair."
Not only are her food labels easy to read and understand, but I also offer an extensive variety of 30 innovative flavours. Each offers a unique character – a kick of heat, a touch of sweet tartness, something boozy, herbal or spiced.
The jams in particular are tagged with enticing names such as Banana Split, Bacon Bourbon, Red Pepper Jelly and Apple Butter (a fruit spread that tastes like apple pie).
After spending 40 years in the petrochemical industry employed in various areas, I started experimenting with jams about in 2008 quite by accident.
"My husband (Neil) loves to pick berries and he filled a freezer. I couldn't put anything in it because it was so full. At Christmas I thought I'd make presents for family and friends. I ended up with 267 jars," laughed Busenius.
At the time, I could not have predicted my jam-making savvy would bloom into a full-fledged business with contacts across the region.
The leftover jars were sold in the region's smaller markets where the mother of four discovered an untapped demand for foods unavailable in big box supermarkets.
Requests started coming in for local berry jams such as chokecherry and pincherry jam. Eager to satisfy customers, i experimented using a mix of old family recipes,old cookbooks and recipes from the internet. "I got a lot of requests for Green Tomato Chow
Million Dollar relish Relish (sweet pickle relish from the Deep South)I picked a recipe from the internet and tweaked it, and it's been a big seller."
Honeyberries do not grow east Saskatchewan. A Manitoba couple strolling through the St. Albert Farmers' Market spotted jars and had a case shipped home.
Chow chow, another East Coast Relish made from green tomatoes, onions and topped with vinegar, sugar and spices, was another request. Sobeys sells chow chow on the East Coast, but not in Western Canada.
"I made a little batch and he (the man who made request) tasted it and said, 'you nailed it,'" Busenius said.
When she started making preserves, Busenius attempted to cut costs growing vegetables on her husband's quarter section near Busby.
"We grew vegetables until the deer came snacking and dug up and trampled the garden."
Today, she buys fruits and vegetables wherever there is a good deal: from local producers, wholesale clubs or H & W Produce.
So far this year, Busenius has prepped 600 pounds of pickling cucumbers and more than 1,000 pounds of fruit. Just this past weekend, her team of five that includes daughter Tanis Baxter, canned 250 pounds of carrots filling 120 jars. And this is only a small sampling of her total workload.
"We have a system. One peels. One cuts the correct length. One cuts it into sticks. One puts it in a jar and one covers it in brine."
The jars are then processed in boiling water for 10 minutes.
"It heats them just enough, and the vacuum created sucks down the lid and seals them."
After the summer market season is over, the Busenius's spent some time in Yuma, Ariz. But it's not all relaxation. She collects the prickly pear cactus' neon fruits and extracts the juice. Some describe the juice as tasting like a cross between classic bubblegum and watermelon.
"I make the juice down there, bring it home and make a glaze. My Jalapeno Prickly Pear Glaze has a mild spice and is good on pork and chicken."
In addition to selling at St. Albert Farmers' Market and the Fort Saskatchewan Farmers' Market, she sells her homemade products year-round to two regional butcher shops, a local deli and a country specialty shop.
"I've been lucky. People come to me. I'm not going out to look for business, but if it comes to me, I will look at it."
Sandy Busenius, and her daughter Tanis Baxter work on preserves in their kitchen at their home in Gibbons.
All of my products are prepared in a licensed and inspected commercial kitchen.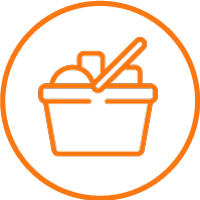 Find us at these
AFMA Approved
Markets
Find us at these
non member Markets