Outstanding New Vendor Award
This award recognizes the diversity of the talents of AFMA's new Make it, Bake it, Grow it vendors.  This award is for vendors who have been selling three years or less.  The products have to be local and unique. Characteristics of excellence and uniqueness include:   packaging, labeling, marketing, popularity and customer impact for the market.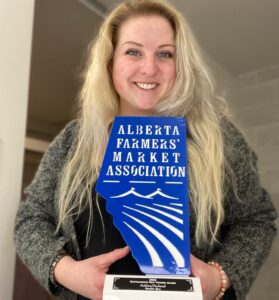 This year's winner is Ashley Nerland from Blondie 'Que.
Ashley makes small batch barbecue rubs and spices with love in Central Alberta.  She started this journey while working at meat shops as a sausage maker/butcher.  She was always brought different spices to try and none of them were ever up to the standard of what she would use in her own kitchen – so she started working on some of her own spice blends to knock those others out of the park. She has always had a knack for finding good flavor pairings so I took this as my sign – and from there Blondie Que was born.
After using friends and family as taste testers she figured it was time to get her products out in the public's eye so she signed up for her first market in Innisfail. The lovely people there gave her the courage to expand her range and she started attending Olds, Drumheller and the odd one in different areas too.  Now her unique product has found demand in marketplaces.
Congratulations Ashley!
Outstanding Perennial Vendor Award 
This award recognizes the diversity of the talents of AFMA's long term Make it, Bake it, Grow it vendors. Products have to be local and unique. Characteristics of excellence and uniqueness include: packaging, labeling, marketing, popularity and customer impact for the market.  These vendors have products that have stood the test of time, have a loyal customer base, and attract customers to the market.
Lots of love was shown for our consistent, returning vendors this year.  We are honoring two vendors with the award this year.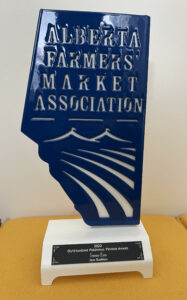 Our first winner is Irene Ens of Jam Goddess.
Irene, Her Sticky Royal Heiress, is consistently experimenting and creating the most unusual and fantastically delicious jam creations. It seems that every week there is a " here, try this one, tell me what you think" situation, some of the flavor combinations make you second guess until it hits the palate and you are always left "wowed" by the greatness and a couple jars in your hand.
She is an inspirational advocate, spokesperson and marketer for all the markets (and the vendors) she is in, wandering around to take pictures before the market begins of other vendor booths and giving them thoughtful shout outs on her own personal vendor page encouraging viewers to come out the market and all the vendors.
Irene is always laughing and offering up sound advice, feedback and kudos to everyone around her. Market managers say they are blessed to have her as part of their market family for the last 13 years and look forward to many more.
Congratulations Irene!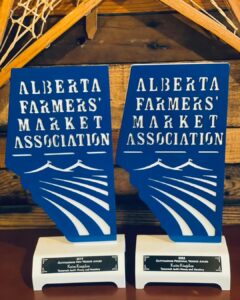 Our second winner is Katie Kingdon of Tamarack Jack's Honey and Meadery.
Tamarack Jack's was Awarded Outstanding New Vendor 5 years ago (attending over 1200 markets that year) and have supported Alberta Farmers' Markets across Alberta with their outstanding team attending multiple markets every day, every week, every month since.
Tamarack Jacks' is a family owned and operated apiary and micro-meadery in the heart of Alberta. If you have been to any of the over 30 markets across Alberta where they sell their products you will have seen the wonderful, eye catching plaid display at the booth of Tamarack Jack's. Along with the amazing display they have friendly, helpful staff. The staff can tell you all about their fantastic products, including the history of mead and the health benefits of honey. The mead is a delicious, original product. They continually develop new and unusual flavors providing new and innovative products. Most importantly their loyal customers rave about the wonderful product!
Congratulations Katie!
Outstanding Market Manager of the Year Award 
This award recognizes market managers who have shown innovation in administration techniques, events, community involvement and promotions to improve their market. Candidates have strong communication skills including the ability to communicate with vendors, board members, customers, media, surrounding businesses, and potential partners.  They have proven ability to stay on top of social media and spread the word about the market but also to quickly and effectively deal with complaints before they become a problem.
Candidates strive for continuous improvement.  They are teachers, visionaries, and big picture thinkers. They are in tune with what customers want and with what vendors need.  They show creative thinking, creative problem solving, and integrity.
We are very proud of the wonderful market managers we have in our province and would like to acknowledge all of our nominees.  If you are nominated please stand when you hear your name.  In no particular order, the nominees are; 
Darice & Chelsea Rach – Grande Prairie Farmers' Market
Yvonne McDermid – Athabasca Farmers' Market
Corinne Olson – Edmonton Downtown Farmers' Market
Shelly MacNichol – Edson Farmers' Market Society
Cheryl Shea – Crossfield Farmers' Market
Andrea Toth – Farmers & Makers Market at cSpace
Wendy Buyar – Bentley Farmers' Market
Tracey Richter Brucks – Lacombe Farmers' Market
Diana Neubauer – Salisbury Farmers' Market Association
Gayle Rondeel – Rimbey Market at the Park
Marcy Bloss – Caroline Farmers Market
Roxanne Ross – Brooks Farmers' Market
Crystal Loewen – Sylvan Lake Farmers' Market
Linda Boser – Bonnyville Farmers' Market
Letitia Kulka – Onoway Farmers' Market
Sonja Devauld – Dalhousie Farmers' Market
Shauna McMinis- Seba Beach Farmers' Market
Stan Morrow – Wetaskiwin Farmers Market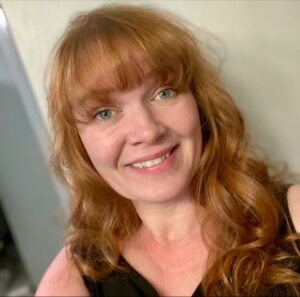 This year's
Market Manager of the Year award is
Wendy Buyar from the Bentley Farmers' Market.
Wendy is well known and loved.  She is a hard working, welcoming, professional, dedicated market manager. Wendy cares about the success of the vendors at the market.  She is always there to help, support, provide feedback and offer suggestions. 
Wendy Buyer has the market's, vendor's and shopper's best interests at heart at all times. She does everything she can to help make the market a success.   Here are some examples of how she has gone above and beyond:  she visited vendors and taking great social media photos (at their homes) for them, buying end of the season pizza (from her own pocket) for vendors, rescued a kitten from under shopper's vehicles,  carries shopper's purchases to their cars for them, mentors anyone who would like support, encourages young people to become vendors,  cleans up horse dung from the parking lot on rodeo weekend, sets up, takes down,  tries new and inventive ways to advertise, entices both shoppers and vendors, gets money for the market, give money from the market to not for profit, uses social media, team builds on our market board, builds relationships with the Town of Bentley and the other not for profit organizations in Bentley and area and so much more! She works year round for this market and has put all of her heart and soul into it.  She can take credit for making Bentley a very successful, thriving market. 
Congratulations Wendy!  
Wanda Klimke Memorial Award for Distinguished Long-term Service
Named in remembrance of Wanda Klimke, long time dedicated AFMA board member, and a good friend of our association.
The Memorial Award honors a retired or deceased volunteer who has given much time and effort in direct service as a member and has promoted farmers' markets throughout the community.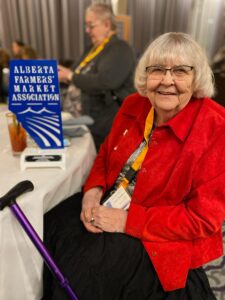 This year we are honoring
Cora Knutson
.
Cora's life has been devoted to helping others.  She is a long standing board member for the Bentley Market board and many other boards in the town of Bentley. Cora is an integral, caring, compassionate, empathetic, moral and an enormous part of the Bentley Farmers' market. She is very forward thinking, but still keeps the original farmer's market in mind when helping to guide through decision making for the market.  As a long time resident of Bentley she has had a firm hand in directing some of the market's decisions that could affect the town.
She has served to be an excellent liaison between the Bentley Town Council and the Farmers' Market board. She has given excellent financial advice to our market.  Her knowledge of grants and politics is a great asset. She continues to be a very active part of our market by selling 50/50's and  greeting and welcoming visitors. She is selfless and asks nothing in return. She has dedicated so many years of her life to the community and this market. There would be a huge hole in the market without her.  She is a beautiful soul with just enough fire to keep everyone educated and in check!  Every Farmer's market needs a Cora.
Congratulations Cora!