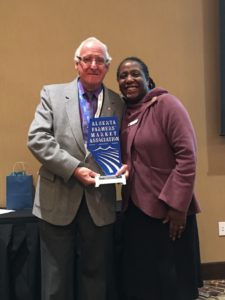 2016 Community Builder Award
Fruits of Sherbrooke
The Community Builder Award recognizes those who have shown innovation in administration techniques, events, community involvement or promotions to improve their market.  Although traditional this award is given to market managers our winner this year have gone above and beyond to improve their community.  We are pleased to present this award to Fruits of Sherbrooke. 
Fruits of Sherbrooke began six years ago with a mission to rescue unused urban fruit.  They are rooted in Edmonton and have always given in excess to the community including Winnifred Stewart, Amity House, Martechak group home in downtown Edmonton, Jasper Place High School Culinary program, small community food hubs, U of A and Grant MacEwan food banks, E4C lunch and snack program. In 2015 Project Fruit Stars was created as their social outreach program. Fruit Stars is managed by Fruits of Sherbrooke and powered by volunteers. The goal is to turn excess local apples into snacks such as applesauce tubes, apple chips and apple leather. These are given to community programs that support learning for high risk children – E4C's school snack program and University of Alberta's community youth programs. This year, a "With Love" jam was created and over 40 litres of jam was donated to Mosaic Centre, E4C, YESS, Operation Friendship, and EPSB aboriginal programming. Their volunteers – University Alumni, CSL (Community Service Learning program from U of A), homemakers, professionals and those with developmental handicaps all share the mission of sharing local abundance. In addition they value our farmer's market community as this is where they started.
Fruits of Sherbrooke was nominated by three fellow vendors who also sell jams and preserves who were grateful for the mentoring that Fruits of Sherbrooke offered even though they are selling similar products.  Food writer, Liane Faulder also wrote a letter to support their nomination.  She says "Fruits of Sherbrooke is an excellent example of a local small business, as well as an organization that looks beyond itself and toward others who might need help in the community.  Fruits of Sherbrooke has a great product, a unique story, and a bit heart."  We agree!  Congratulations Fruits of Sherbrooke!
Fruits of Sherbrooke      
780 244 0129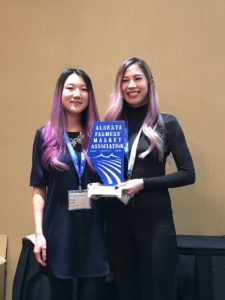 2016 Marketing Award
Caramia Caramels
The Marketing Award recognizes innovation and growth through the use of promotion for getting your ideas out there.  This includes the use of social media, events and everything in between. 
Caramia Caramels was nominated for the Marketing Award because of their well-rounded use of social media channels, innovative content generation and effective use of crowd-funding through Kickstarter. Their perseverance and drive for continued improvement has allowed them to fearlessly experiment with new marketing tools and catch the attention of many!
Caramia Caramels          
780 267 6012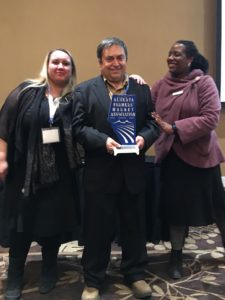 2016 Bake It, Grow It, Produce It Award
Honeyian "The Honeycake Original"
The Bake It, Grow It, Produce It Award recognizes the diversity of the talents of AFMA's food and grower vendors.  The products have to be local and unique.  Characteristics of excellence and uniqueness include packaging, labelling, marketing, popularity and customer impact for the market. 
Honeyian's "the honeycake original" is the only cake of its kind in Canada. Honeyian's founders discovered their ancient 200 year old recipe in a castle library and decided that they wanted to introduce the old beloved recipe to Canada.  Although the recipe is common in Eastern Europe it was almost unknown in Canada. The recipe is very time consuming and labour intensive.   It is hand made using real ingredients with no additives. The taste is somewhat comparable to tiramisu.  Top of Form

The taste of the cake and service provided by the owners and possibility of ordering a gluten free version are all reasons that Honeyian was nominated.  Congratulations to the "honeycake original"!
Honeyian (The Honeycake)        
780 720 7341     
info@thehoneycake.ca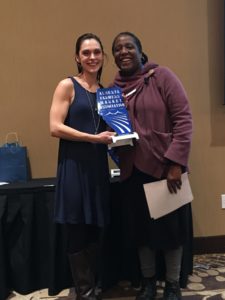 2016 Make It Award
Pure Living Enthusiast
The Make It award recognizes the diversity of the talents of the AFMA's art and crafts vendors.  The products have to be handmade and unique.  Characteristics of excellence and uniqueness include packaging, labelling, marketing, popularity and customer impact for the market. 
The business partners of Pure Living Enthusiast, Jayleen and Rachel got started about 3 years ago with a completely different business plan than they have now. Originally they just wanted to teach people about the chemicals that were hiding in their homes and held workshops on this. At the end of every workshop they handed out little samples of some of the skincare products they would demonstrate. That has turned into an entire skincare line developed for their families and friends (who also happen to be loyal customers). What a better place to showcase these than local farmers markets?
Jayleen and Rachel now have an extensive line of handmade all natural mostly organic skin care for the entire family! They believe that the products you buy should be as clean and natural as the company explains but also affordable for the everyday consumer. They thank the local farmers markets for their success. 
Pure Living Enthusiast was nominated by the market manager of one of the markets that they attend.  She says that they make outstanding locally made body and beauty products with beautiful packaging.  Congratulations to Pure Living Enthusiast!
Pure Living Enthusiast   
780 909 5936     
www.purelivingenthusiast.com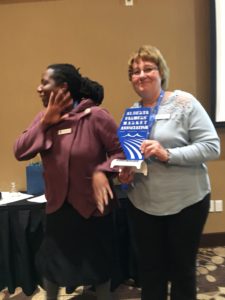 2016 Outstanding Volunteer Award
Johwanna Alleyne – Mojo Jojo Pickles
Normally we let our award winners know that they are receiving the award ahead of time so that they can make arrangement to attend the dinner to receive their award.  This year we decided to surprise our AFMA president with the Outstanding Volunteer Award.  She was brought to tears.  We definitely succeeded in surprising her!
The Outstanding Volunteer Award recognizes volunteers who have the dedication, determination, drive, motivation and passion to continue year after year to make a difference to a market. 
Johwanna Alleyne of Mojo Jojo Pickles was nominated by her fellow vendor Carol of Fruits of Sherbrooke.  Carol says Johwanna has been their most generous mentor and supporter.  She has given her time, shared connections to resources and provided guidance and moral support in times of challenges.  She is kind, generous, caring, knowledgeable, intelligent and energetic.  We here at AFMA are very aware of these qualities and agree with Carol.  Johwanna served as our president this year and vice-president the two years before that.  During that time she has worked tirelessly to help AFMA grow and prosper.  We thank you for all you do Johwanna. 
Mojo Jojo Pickles           
780 479 2831     
mojojojopickles.com
AFMA Farmers Market Awards
We would like to once again acknowledge last season's award winners and to thank our wonderful award sponsor, Western Financial Group. Our members make us great and our sponsors help make things happen. Please nominate anyone who you feel has contributed exceptional work toward their businesses and the excellence of Alberta Approved Farmers' Markets.
Nominations will close on January 15, 2018 and the awards will be presented at the AGM in March 2018.